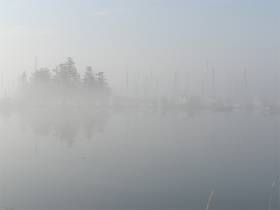 "In the winter of 1989 I had my bell rung by Spirit, the sort of a knock out punch that could not be ignored and left me forever changed.
This occurred after hitting a real low point in my life, having lunch with my father who mentioned if I was having trouble sleeping that 3:00 in the morning was a good time to pray for help.
I remember seeing the clock read 11:00 as I said a prayer in a state of complete surrender even stating that I would sell my equipment and work in a factory or anything else that might be suggested and with that I went to sleep.
The next thing I remember was waking up and seeing the clock read 3:00 a.m.
In a voice that echoed around the room I heard "ART IS WERE IT'S AT, TRUST ME I'M YOUR MOST SIGNIFICANT OTHER." Moments later I was looking in the bathroom mirror wondering what the f— was that? Not only did the voice not wake my wife, it didn't make any sense. I had no interest or training in art. I was a furniture designer/maker and a musician, I had no idea how I could be an artist. I went back to bed with my head swimming. I'm pretty sure I forgot to pray. The next morning I remembered looking in that mirror again thinking I have no idea what it means but I will not cut my hair until I'm recognized as an artist.
Later after telling my Dad about the voice he said it was probably Jesus. I didn't have the nerve to tell him it sounded more like something Jim Morrison would have said. I was having real difficulty thinking the voice of the divine could in any way sound like a hipster. I have always wished I'd asked but in the moment of such awe you sort of lose your voice.
Just over three years later I cut my hair after showing my work at an international show in New York at the Javits Center.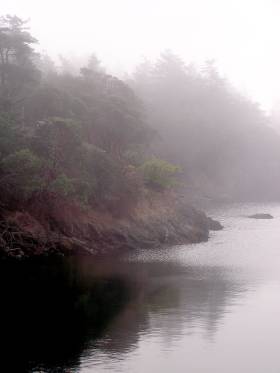 The medium was reverse painted glass.
My art has always been a by-product of spirit, always feeling my way through with my heart rather than my intellect.
I describe my work as very Zen-like. I like painting on the edge of control rather than trying to make a copy of life. Painting on the back of glass is like experiencing a memory, a dream, a vision for the first time.
My work evolves much the same way that intent works in our lives. We don't see the results until we're down the road. I experience this when I turn the glass over to see what was just created. I paint with spray cans of enamel; only rarely using a brush, and my process of painting involves both putting paint on and then taking it off with knives and razor blades as tools. I tend to use things that are lying around at the time I begin to create which I call Orchestrated accidents.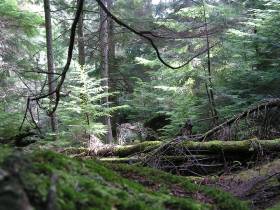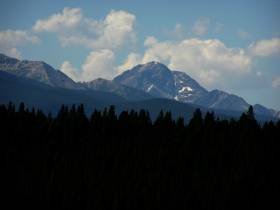 Isn't this also how a person might describe the unfolding of spirit in our lives? Sure my wife and I chose to move to Orcas Island and live the artist's life but who could have guessed the chairman of the Portland Art Museum would see my work in a little gallery in La Conner Washington and go on to buy and commission five pieces.
Better still who could have possibly foreseen the World Tour of the Buddha Relics coming to Orcas Island. After being turned away by all the churches, the owner of the Artist in Residents Gallery, where I was currently having a show, offered his space for the day.
So here were six Buddhas including the historic Buddha's remains surrounded by my work reflecting these world travelers. I'm not sure if it really gets better than that. I hope my art touches you as so many others have found it inspiring, empowering or at least mystifying."
As the great poet and mystic Rumi said "Sell all your cleverness and purchase bewilderment"
Martin Gerard